Great art is the work of the whole living creature, body and soul.
It is the inspiration of the artist's knowledge and inspiration that breathes life into ink, paper and other media. Without it, art is pure decoration.
To Quote Francis Bacon: "Find subjects that really absorb you. Without a subject that eats into you, you automatically go into decoration. The greatest art always returns you to the vulnerability of the human situation. Our greatest obsession is with ourselves. Iíve done a lot of self-portraits. "
For Rick Simpson, this process is purely intuitive, not planned in advance. His imagery comes from deeply personal and cultural experiences. He draws from his subconscious to express himself in dreamlike images emerging from a stream of consciousness..
Fantastic Realism, as an Art Movement, was established in Vienna in 1946. It involves imagery that combines the painterly techniques of the Old Masters' realism with religious and esoteric symbolism and metaphors..
RELIQUARY - GUARDIANS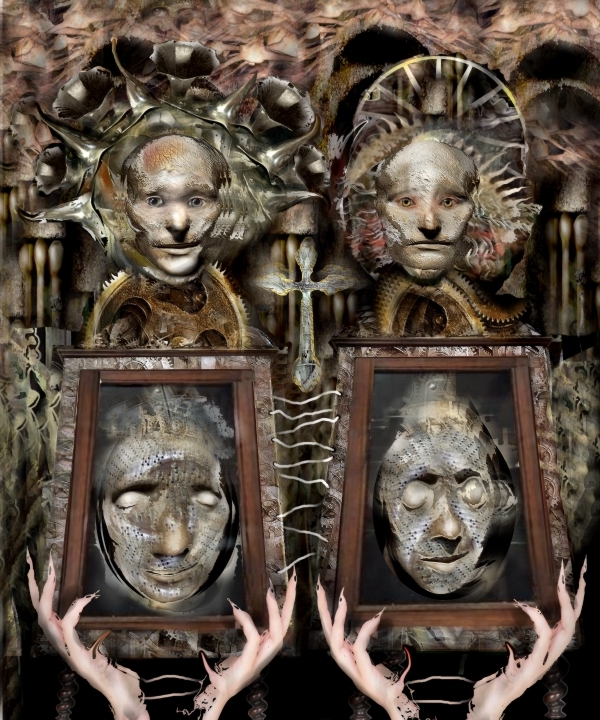 Rick Simpson is a member of The Saatchi Art Gallery, The Society for Art of Imagination, Artoteque (London), The Museum of Computer Art in New York City (MOCA). He has also displayed his artworks in Seattle, Los Angeles, San Francisco. London and New York. His work has received international awards, including Second Prize at the 2008 Society for Art of Imagination's Annual International Exhibition (London) and First Prize, Museum of Computer Art (NYC).
Rick Simpson received his MFA in Fine Art Printmaking at the University of Oregon, where he taught lithography for three years. He later discovered digital fine art painting and has since become a master of the digital art medium.
His artwork is greatly influenced by a 12-year residence in Europe, where he absorbed artistic genres from contemporary abstract expressionism to Old Masters. Also, his many years of living and traveling in the Middle East and Asia expanded his exposure to international art movements.